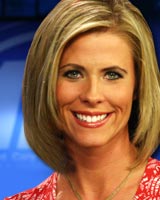 Caitlin Knute co-anchors the ABC11 Eyewitness News weekend morning newscasts. She also reports for the weekday morning Eyewitness News team.

Before joining ABC 11, Caitlin most recently worked for KCCI in Des Moines, Iowa as the weekday morning anchor. While she was there she had a chance to cover the first-in-the-nation caucuses and reported live from the Obama headquarters the night he claimed the state. She also went live for around-the-clock coverage during the floods of 2008, which shut down major parts of the city. Other personal highlights of her career include flying with the Blue Angels, riding a dirt bike (somewhat unsuccessfully) live on TV, and getting to hold baby tiger cubs.

Caitlin enjoyed some of these unforgettable experiences early on in her career while working at stations in Peoria and Quincy, Illinois. Having grown up outside of Chicago, Caitlin is a HUGE Cubs fan. She's also a former college softball player, and still enjoys playing adult softball and volleyball in her spare time. Prior to moving here she was involved with Big Brothers/Big Sisters, coaching high school softball, the local Animal Rescue League, and working as a youth group leader for her church. Caitlin hopes to pursue these same interests now that she has made North Carolina her home.

Email Caitlin.

Request Caitlin to speak at your event.
---