DURHAM (WTVD) -- The Bull City Stand Down connects hundreds of local veterans with services such as eye exams, vaccines and legal help.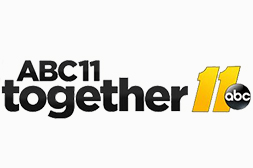 The event helps veterans, many of whom are homeless or living in temporary housing, get basic needs like toiletries, teeth cleaning or extractions, or even just a quick shave.
According to organizers, approximately 170 veterans who attended the event are living in temporary housing, homeless shelters or on the streets.
Army veteran Robert Kirby works at a Food Lion deli and is among those veterans in temporary housing.
He said just being able to get a haircut means so much to him.
"I'm a sentimental guy, when I see the national anthem on TV, I stand, and it's great to see these people who are giving back to the community and to the veterans," Kirby said. "You know we get down on our luck just like anybody else."
Kirby is not alone.
Jesse Pratt Jr. is a 72-year-old Vietnam infantry veteran. He said he has PTSD and has been waiting 10 years to hear back on some of his medical claims.
Those are of the challenges that event coordinators are hoping to solve.
"We have a lot of veterans who don't even know they're entitled to any benefits," Kim Burrucker said.
Burrucker is the director of public interest and pro bono work for Duke Law. She said volunteers with Duke law are also helping vets get money on back taxes -- helping one vet get almost $3,000 alone.
She said it is access to advice and resources that can make all the difference for homeless and other vulnerable veterans.
"I would like to be able to reach every homeless veteran in this area. You know, there's a lot of them that don't even know about it, and we try, but our resources are limited," she said.
Burrucker said Bull City Stand Down organizers hoped to serve about 450 to 500 veterans at Friday's event.
Report a Typo