RALEIGH (WTVD) -- A special honor at Ravenscroft School in Raleigh was given to one of its most distinguished graduates, who's on a mission to cure the same rare disease he's currently battling.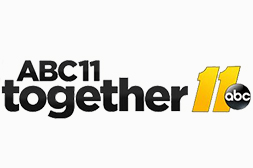 For David Fajgenbaum, coming back to Raleigh and the walls of Ravenscroft is like coming back home.
"It feels great to be back. Ravenscroft had such an impact on me growing up," David said.
The former football player and standout track athlete now has a medical degree and an MBA from the University of Pennsylvania.
He's a researcher on the faculty at U. Penn, working to find a cure for Idiopathic Multicentric Castleman Disease. This rare condition almost claimed his life, more than once.
CLICK HERE FOR MORE ABOUT THE DISEASE
"My immune system becomes activated for no reason that we know of, and then starts attacking my organs," David explained.
David co-founded the Castleman Disease Collaborative Network (CDCN). He's bringing together the most brilliant minds in research to figure out what causes Castleman's, and how to fight it.
His dedication hasn't gone unnoticed by the leadership at Ravenscroft, who honored David with the 2016 Distinguished Alumni Award on Wednesday.
Even though he now lives and works in Philadelphia, he's never too far from the place where it all started.
"My greatest lifetime challenges have occurred since Ravenscroft, but I do think my experiences at Ravenscroft helped to prepare me for the challenges that I would face."
From battling a serious illness to losing a parent, he plans to continue sharing the lessons he's learned with others.
"I'd love to have to opportunity to share those with other people," David said.
Report a Typo