FAYETTEVILLE (WTVD) -- This time of year, mailboxes are full of holiday cards with warm messages and hope heading into the new year.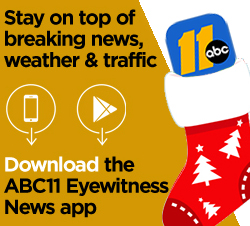 But it's the words a Fayetteville teacher took the time to write that have really touched her students and their families.
An English teacher at Cumberland International Early College High School took the time to handwrite dozens of letters to her students.
"It made me feel appreciated," student Paul Stephens said.
Stephens was so touched by the words of encouragement, he couldn't wait to share them with his mom.
"He never shows me any papers or anything and he showed me this as soon as he walked in the door," his mom, Tammy Stephens, said.
Jessica Osnoe wanted to teach her students a lesson you don't find in textbooks.
So she took the time to personalize notes for her 70 students as they get ready for a new year.
"I want to affirm what I see in them and the growth that they make over the course of the semester," Osnoe said. "I want them to know that they are valued for who they are, and not for anything they might do."
Each letter is as unique as her students, with only one common piece of advice: To be magnificent or be marvelous.
AN UNEXPECTED GIFT FROM THE HEART
"We truly appreciate it that this is something he can have for the rest of his life. Thank you," Tammy Stephens said.
"There is nothing but gratitude in my heart for both of them," Osnoe said.
Osnoe wants her students to know she recognizes how different each student is and hopes her words help those kids recognize their worth and their value.
Report a Typo