RALEIGH (WTVD) -- Groups on all sides of the House Bill 2 debate weighed in all day Monday as Gov. Pat McCrory filed a lawsuit asking the federal court system to clarify federal law on HB2.
In turn, the U.S. Department of Justice responded with its own lawsuit. Then Senate Leader Phil Berger (R-Rockingham) and Speaker of the House Tim Moore (R-Cleveland) filed their own lawsuit similar to the governor's.
"They already know the Fourth Circuit has weighed in on this matter, that suit will go nowhere. It's a political stunt. The Fourth Circuit has already said you can't discriminate against LGBT people," said Chris Sgro, executive director of Equality NC and Guilford County representative in the North Carolina General Assembly.
In a news conference, Sgro repeated financially what North Carolina stands to lose because of HB2.
EPIC LEGAL CLASH LOOMS AS MCCRORY, DOJ EXCHANGE LAWSUITS
"Berger, Moore and McCrory have put $4.5 billion in education funding at risk," Sgro said. "This potential loss is on top of the 500-million, that's half a billion dollars in economic revenue potential."
PUBLIC RECORDS REQUEST
In an attempt to fight those statements, the North Carolina Values Coalition and The Civitas Institute hosted a joint news conference outside the office of Attorney General Roy Cooper.
Standing at the podium, Francis DeLuca, the executive director of the Civitas Institute, told the crowd of reporters that he hand-delivered a public records request to Attorney General Roy Cooper's office just 30 minutes prior to the news conference.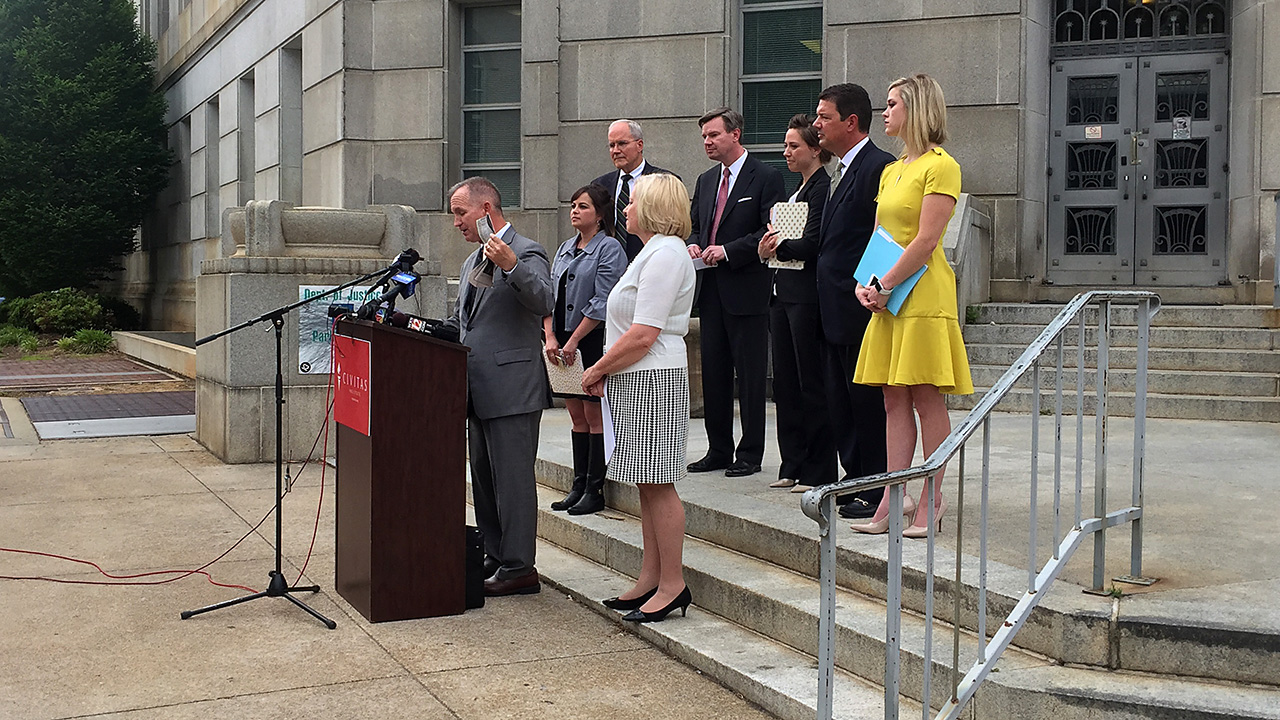 Representatives of organizations supporting Gov. Pat McCrory and House Bill 2 hold a news conference on Monday in Raleigh. (WTVD)
That request is asking for correspondence between Attorney General Cooper's office, the U.S. Attorney General's Office and the CEOs of companies who have denounced House Bill 2. They're accusing Cooper of what they call "federal" and "economic blackmail."
"Based on information released to the public by the Wall Street Journal, we believe the attorney general has colluded with major corporation CEOs to cause economic harm to the state of North Carolina by inciting them to threaten and bully the state," said Tami Fitzgerald, executive director of the NC Values Coalition.
Excerpt from article:
North Carolina's Democratic Attorney General Roy Cooper called Salesforce to discuss the law, which had drawn lawsuits against the state. Mr. Cooper "looked to Salesforce because he wanted them to know that this is not who North Carolina is, and that we are fighting against this discriminatory law," said Megan Jacobs, deputy campaign manager for Mr. Cooper, who is challenging Gov. McCrory for the governorship.
LINK TO WALL STREET JOURNAL ARTICLE (MAY REQUIRE LOGIN)
"Attorney General Roy Cooper has refused to defend North Carolina against business bullies and threats from federal bureaucrats," DeLuca said. "Cooper has been colluding with business interests to commit economic blackmail against our state. Therefore it is plausible that he has been complicit in the recent federal blackmail from the Obama Administration."
NOT JUST A BATHROOM BILL
Outside the Executive Mansion, the Rev. Williams Barber, President of the North Carolina NAACP, spoke to reporters about his plan to reach out to the U.S. Department of Justice about the other parts of HB2.
SPELLINGS ON HB2: UNC SYSTEM IS 'CAUGHT IN THE MIDDLE'
"This is not just a bathroom bill," Barber said. "This was a bill designed to attack the transgender community, to attack those 'Fighting for $15.' "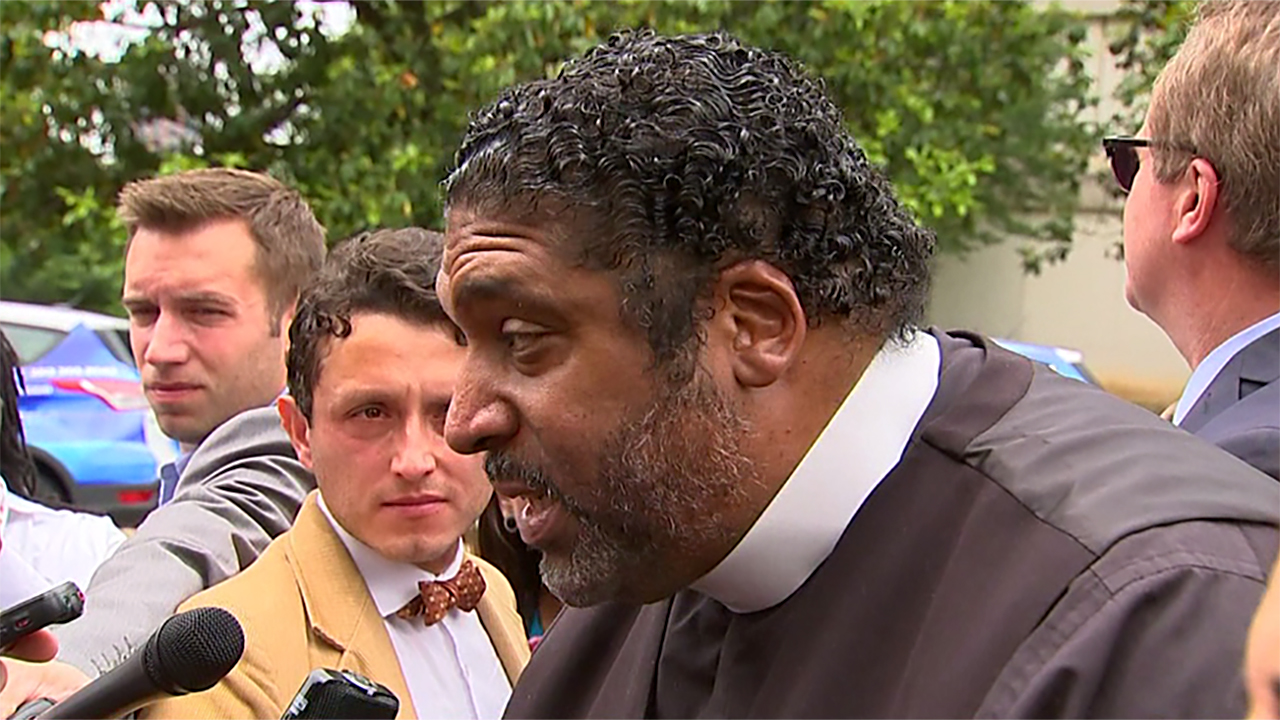 The Rev. William Barber was one of those who spoke out against HB2 on Monday.
Barber went on to say that discrimination in the workplace is also part of Title VII. The NC NAACP planned to send a letter Monday evening to the federal government to take a closer look at all parts of the bill.
"We cannot allow any people to be discriminated against, because who's next? Who's next?" Barber asked.
Report a Typo