RALEIGH, North Carolina (WTVD) -- They say a mother's intuition is never wrong.
Christie Shook first saw Eric Hein's story about getting a life-saving double lung transplant when it aired on ABC11 January 18.
"I just knew in my heart. That's the instinct," Shook explained.
CLICK HERE TO READ MORE
The story was an "aha moment" for Shook because her son Andrew died in Nov. 2016 after going into sudden cardiac arrest at work, and her family decided to donate his organs.
"There aren't a lot of double lung transplants on the 20th of November," Christie recalled.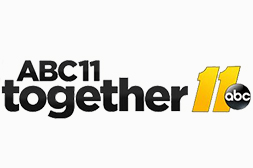 Through the ABC11 story, Shook's family and Hein's family found each other.
"It was so crazy to find that out, knowing that they were so close by," Hein said.
Sitting on a bench outside UNC Rex Health Care - where Eric's journey for a lung transplant began and Andrew's life ended - Christie had her daughter Carey on her left and Hein on her right. She said with every breath Hein takes she hears a piece of her son Andrew.
Hein suffers from cystic fibrosis and without his lung transplant, he may not have survived.
Hein wasn't the only person who received the generosity of the Shook family. Five organs were donated, including his heart.
Now the two families are working together to raise awareness about the organ donation. For them, it turned the Shook's tragedy into Hein's second chance at life.
According to the Organ Procurement and Transplantation Network, nearly 120,000 folks across the country are on a list, waiting for an organ transplant.
Speaking with ABC11, Eric's wife Marissa Barker took on some of the myths about organ donation that she said she thinks are keeping some people from choosing to donate after they pass away.
"You don't need (your organs) at that point. And you hear all of the fake stories about EMTs not trying to save your life, you know that's so far from the truth," she explained.
Hein's family is also hosting a fundraiser on March 10 to raise funds for his transplant costs.
CLICK HERE FOR MORE ABOUT THE COSTS THE FAMILY FACES
The fundraiser starts at 5 p.m. and runs until 9 p.m. at the Chipotle located at 6102 Falls of Neuse Rd in Raleigh.
For more information on Eric, please visit
https://www.facebook.com/COTAforEricH/
Report a Typo
null