RALEIGH (WTVD) -- The season of giving isn't over quite yet. One local family has a big need and local residents are stepping up to the plate, but they still need your help.
Something as simple as getting in and out of the house is a big task for Ursula Thompson and her two girls, Morgan and Jaidah.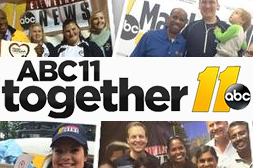 "It truly is a struggle," Ursula said.
They are desperately in need of a wheelchair-accessible van.
CLICK HERE TO DONATE
12-year-old Jaidah and 9-year-old Morgan were both born with a rare brain disorder,
agenesis of the corpus callosum
.
"They're resilient. They communicate in their own little way," Ursula said.
Ursula, a single mom, takes care of her girls' every need. Just this past summer, Ursula
had to battle with Wake County Public Schools
to make sure they were receiving the correct nutritional lunch. As they are growing older, the struggle to care for them is growing too.
A big obstacle is the current minivan they use. Ursula has to lift the girls in and out of her minivan, which is a huge effort for her. Just recently, Morgan's leg was broken when someone tried to help Ursula lift Morgan into the car.
"She's over 50 pounds. She's over 60 (Jaidah), and getting them in and out of the car seat, lifting the chairs which are about 30 pounds, and with the chairs getting bigger, we're not even going to have room to fit the chairs anymore," Ursula said.
The current van is 10 years old, which is too old for the girls to qualify for any assistance from Wake County to retrofit it to make it handicap accessible, which costs more than $20,000. Right now, Ursula has to wheel each girl out separately. Then, she lifts each girl from their wheelchair into their car seats and buckles them in. Then, she has to put each wheelchair in the back on the van. As the girls grow, she says their wheelchairs get bigger and eventually the wheelchairs won't be able to fit in the back of the van unless she breaks each one down. Just to get both girls in the minivan can take up to 30 minutes.
If Ursula and her girls got a wheelchair-accessible van, the girls could just be wheeled right into the van in the wheelchairs and the chairs would strap down. It would be a pretty quick and simple process. Plus, no heavy lifting for Ursula.
"You want to be able to provide for your kids, you want them to be safe," Ursula said. "And having that van would help tremendously."
That's where the
Wake Forest Mustangs
stepped in.
"Helping out the community, I think is one of the most important things we can do as individuals," President of Wake Forest Mustangs Gary Lyman said.
The car club is made up of people who love their Ford Mustangs, and they're hosting a poker run that starts in Wake Forest and goes all the way to Wilmington.
CLICK HERE FOR MORE INFORMATION (.pdf)
"The way a poker run works, everyone gets one card starting out, three stops along the way and you'll get your last card at the battleship," Lyman said.
There will be various prizes and it all takes place this Saturday, the 16th. All the money raised from the event will go towards a new wheelchair accessible van for Jaidah and Morgan.
"It's going to be a great time, but ultimately we want to help out Ursula and the girls," Gary said.
It's help Ursula and her girls are so thankful for.
"We're excited, just to know there are people out there who have the heart and desire to want to help people in the community," Ursula said.
There is still time to sign up for the poker run. Registration is from 7 a.m. - 9 a.m. Saturday and the cars, trucks, and bikes will all depart at 9:15 a.m. It starts at My Place Restaurant & Tavern at 2108 S. Main Street in Wake Forest. If you can't attend the event, there is also a
GoFundme page
where all the money donated will go towards getting the Thompson's a new wheelchair-accessible van.
Report a Typo