RALEIGH (WTVD) -- It's been weeks without hot water for the tenants of a Raleigh apartment complex and the buildings have even been declared "unfit for human habitation." Still, the landlord continues collecting rent, allowing tenants to live there, and promising it will be fixed soon.
For resident Kara Banks, living in the apartment without hot water has been difficult.
For more information on your rights as a tenant, click here.
"I am frustrated. I'm fed up. I don't know what to do. I don't have any answers," she said.
Kara said she has to boil water in order to take a hot shower.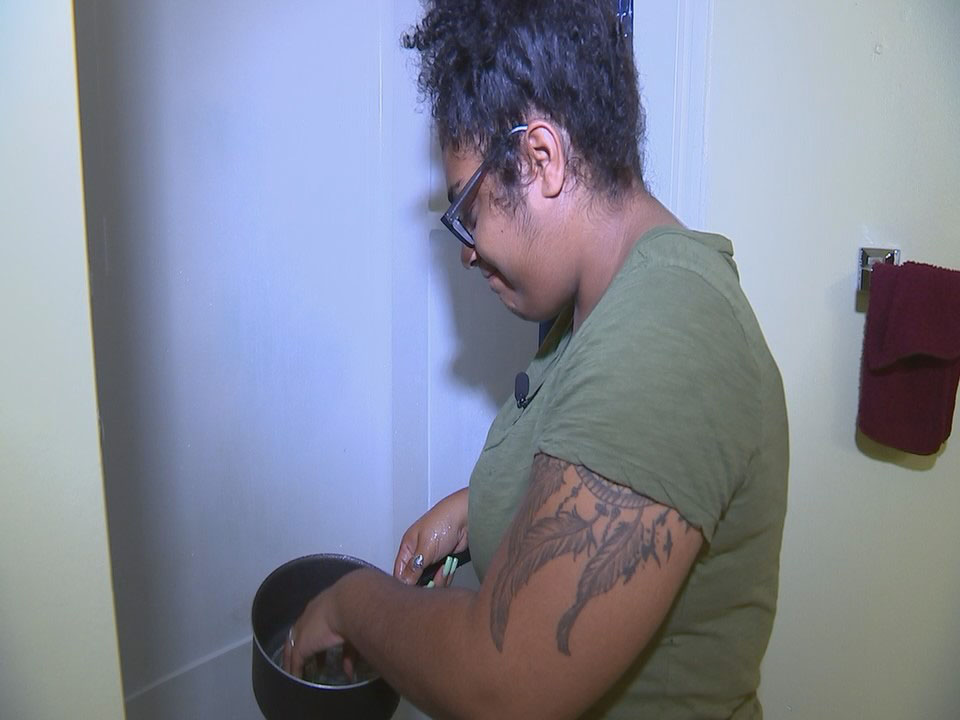 It's the same for her neighbor, Annika Adetunji. Annika said she has been paying $750 a month to live in her apartment, and she's tired of the landlord's empty promises.
Annika and her landlord, who she said she knows as Jenny Xu, texted back and forth about the issues with the apartment, but Annika said she always got the same response.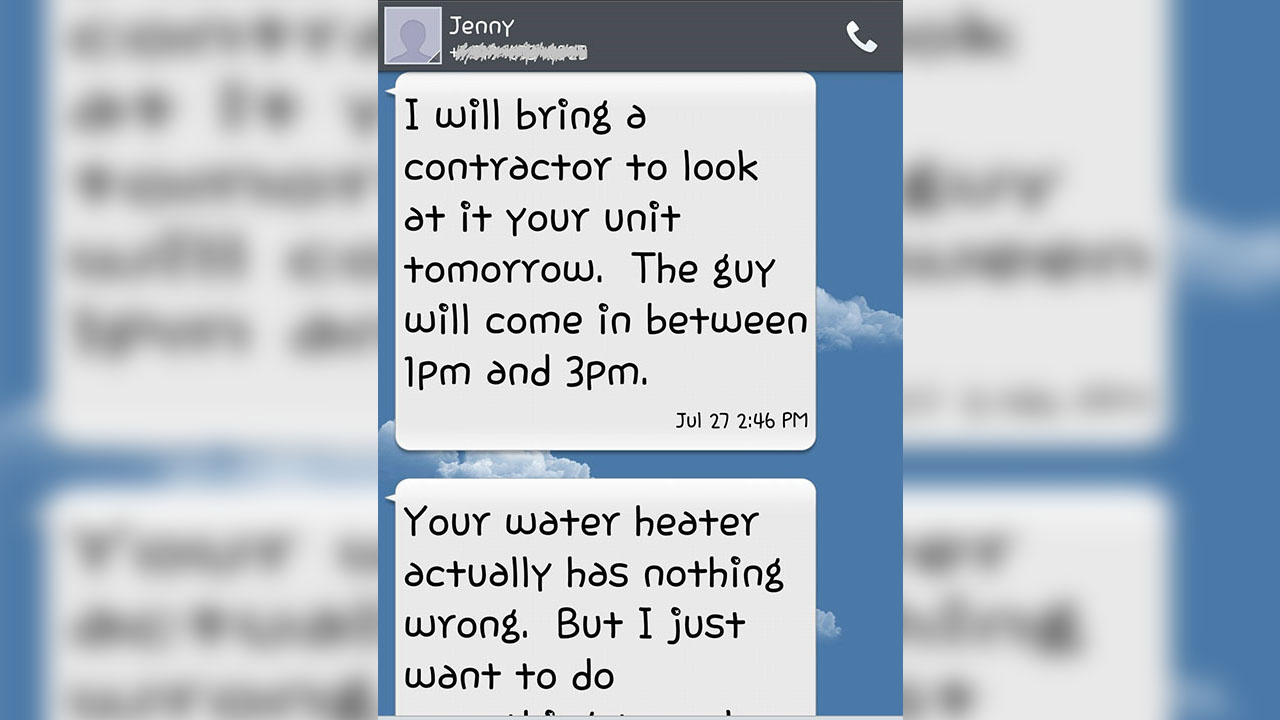 "I even asked for my security deposit back," Annika explained. "She was like 'Annika don't worry, I'm working on it.'"
Annika has a two year old son. He hasn't been able to live with her since the situation started.
"With having no hot water and I also have a child. It doesn't work," she said.
This has been the reality for Annika and Kara since July 15, when they found a red tag on the water heaters in their building and a gas company shut off their gas. On June 16, the City of Raleigh declared the building unfit for human habitation.
According to the City of Raleigh, inspectors looked at all four units at the 105 Bashford Road complex in September 2014 and found multiple violations of the city's housing code regarding the way the gas-fired water heaters were installed and risks of carbon monoxide problems.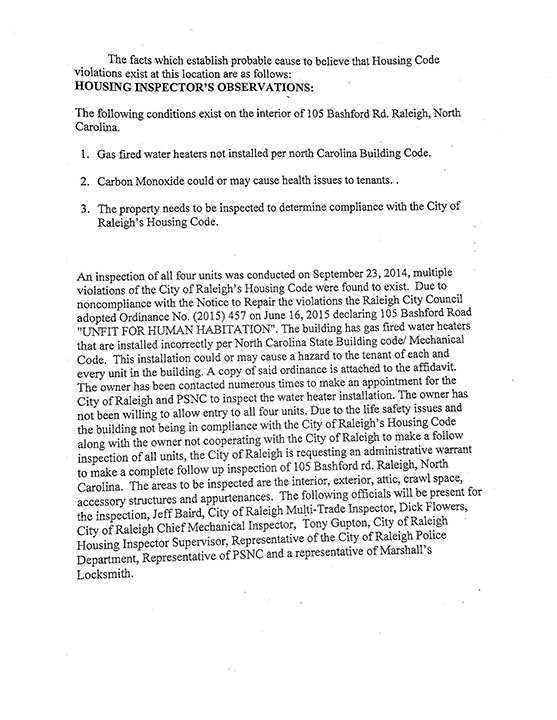 According to the City of Raleigh, noncompliance with the North Carolina Building Code on these gas heaters could cause harm to the residents, including the several children who live in the complex.
I called and texted the landlord, Jenny Xu and went to her home and received no response. However, she did have a plumber at the apartment complex to meet with city inspectors and I met with her there.
"The tenants who live here have no hot water," I said to her. " They are paying you rent, and you have not fixed any of the problems. We have letters from the City; you've known about these issues, these are not new."
"Who contacted you? Because my tenants would not have contacted you," Jenny said.
"Yes, your tenants contacted me. Your tenants don't have hot water, if you didn't have hot water would you be upset," I responded.
Jenny said at first that nothing was wrong and blamed the situation on the City of Raleigh inspectors.
"There is nothing wrong. Everything is functioning, it works. They turned off my gas what can I do?" she said. "I have been working about it for two weeks trying to make them turn on the gas they don't do it."
"It's because it's dangerous, there's red tags on here, would you like to live in this kind of environment?" I said.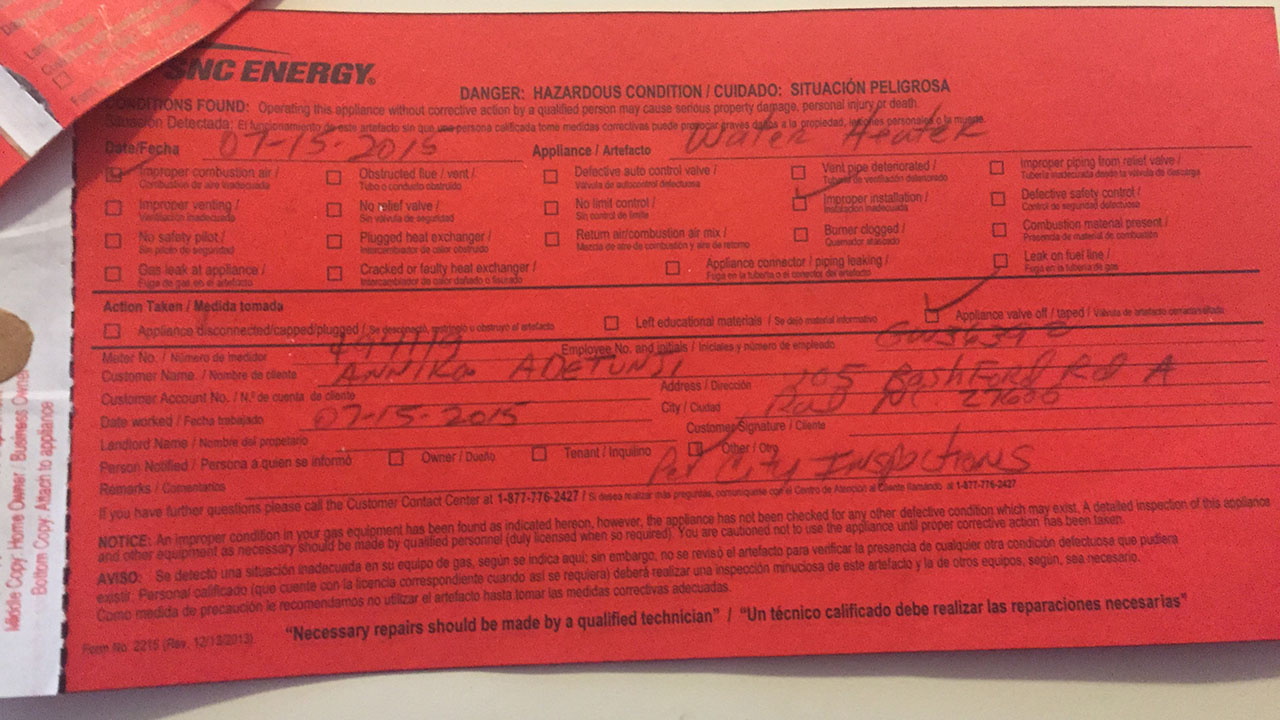 She said the gas can be turned on.
"You got to tell them to turn it on, nothing for me," she said.
"They want it safe, you don't want it safe?" I said.
Before she left, she changed her story and said that she has been trying to get a company to make the necessary repairs.
"They refuse to do the work, okay?" she said.
"But there is a lot of work to be done, correct?" I asked.
"Well there is a lot of work has to be done. The building has been built 30 year ago," she said. "What's wrong with everybody, man?"
"What's wrong with people? You don't think they should have hot water? Do you have hot water?" I asked.
"Go tell them, not me, like I told you," she responded.
She blamed the city again.
"We don't want you to leave. We'd rather you fix the hot water. Can you just fix it with them?" I asked.
"I'm trying to fix it, but you're here," she said. "Go away, I will work with them, go away."
"Okay, we will go away if you work with them," I responded.
"I am working with them," she said.
She then got in her car and left.
Watch: Troubleshooter Diane Wilson confronts Jenny Xu
According to the city, Jenny has known about this problem for a while and she has been facing some major fines. The city sent this letter on May 5, notifying her that due to the failure to bring the complex into compliance with City Housing Code and prior inspection orders, City Council would hear the case on June 16.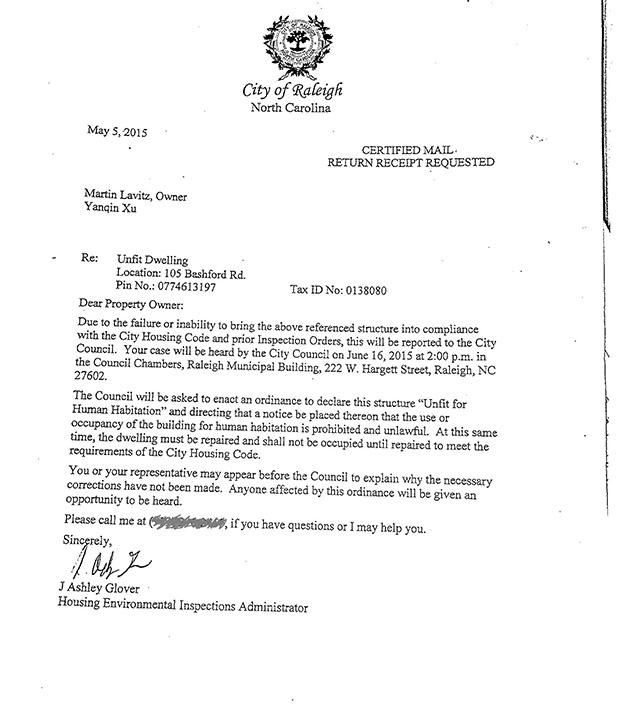 On June 16, when the complex was declared unfit for human habitation, Jenny was fined $1,000. Every day since, she's had a fine of $250 a day. That means she's currently facing more than $10,000 in city fines, and the price tag is growing every day.
While we were at the complex, a plumber that Jenny had called looked at the hot water heaters to see what repairs needed to be done. We will continue following the story to see if those repairs happen and if the gas gets turned back on.
The city said that if Jenny does not make the necessary repairs, the tenants will have to vacate their apartments because it's not safe.
As for Kara and Annika, Annika said she is working on moving out and Kara said she wants to move but is financially stuck right now.
"If I pay rent somewhere, I should be able to have functioning hot water," she said.
If you are a tenant, you have rights when your landlord is not making the necessary repairs. According to the North Carolina Department of Justice, this is what you should do: ask your landlord if he or she will allow for a withholding of some or all of the next rent payment until the repair is made and get it in writing.
If the landlord refuses to make the repairs or allow you to withhold rent payments, a tenant can file a small claims suit against the landlord for court permission to withhold part of the next month's rent payment to cover the costs paid by the tenant for repairs or to compensate the tenant for the reduced rental value of the dwelling.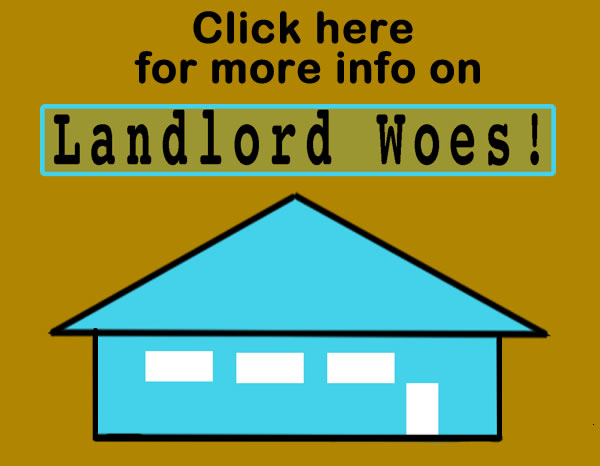 Report a Typo