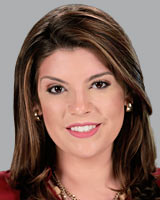 Stephanie Lopez joined the ABC11 team in January 2015 as a Multimedia Investigative Reporter. She is a bilingual reporter, native in Spanish, and joins ABC11 after working at Univision Noticias 40 in Raleigh as a freelance investigative and general assignment reporter.

Stephanie got her start at ABC11 as an intern. She later interned for ABC at the network, with the Brian Ross Investigative Unit, working on stories spanning the release of the Taliban Five in a trade for U.S. Sergeant Bowe Bergdahl, to the downing of a Malaysia Airlines flight over Ukraine airspace.

Stephanie graduated from the University of North Carolina at Chapel Hill with a degree in Journalism and Mass Communication. While at UNC she anchored and covered local crime for Carolina Week, a campus and community news show.

A native of Miami, Florida, Stephanie enjoys spending time with her family, going to the beach and sipping Cuban coffee.

You can follow her on Twitter at @LopezABC11, or catch up with her on Facebook by liking her page. Let Stephanie know what you think, or feel free to just stop by and say hello.

If you know of something that should be investigated, Stephanie would love to hear from you!

Email Stephanie.

Request Stephanie to speak at your event.
---