BUIES CREEK, North Carolina (WTVD) -- It's nearly every kid's dream, and Akeem Bostick says he is living his as a pitcher for the Buies Creek Astros, the newest minor-league farm team of the Houston Astros.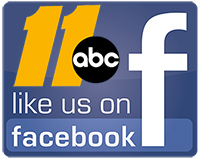 "I started when I was about 4 years old," Bostick said. "I don't think I developed a love for the game until 11 or 12. My dream is to make it to the big leagues."
For the next two years, these Astros will call Campbell University's Jim Perry Stadium home.
Buies Creek is the Class A Advanced affiliate for the Astros and will play in the Carolina League. The team's manager says he has players with major-league talent.
"I mean, the team is going to play hard," Manager Omar Lopez said. "They are going to try and do their best. Everyone has individual goals, at the same time we are playing as a team."
RELATED: FAYETTEVILLE GIVES FINAL APPROVAL TO BASEBALL STADIUM
This is just the beginning. Later this spring, Fayetteville will break ground for a new $33 million downtown baseball stadium. These Astros will change their name and logo when they start playing in Fayetteville in 2019. The city has signed a 30-year deal with the Houston Astros.
The team's first-year schedule has the BC Astros playing 62 home games during a 140-game schedule. The coaches say area fans will have a chance to see that future big-league stars of tomorrow. The players say the game is as much about heart and soul as talent.
"We are all friends," said Kyle Tucker, a Buies Creek outfielder. "We have played together before, so we kind of know each other, so our chemistry is there. I'm excited to start the season."
TEAM SCHEDULE HERE
The team's first game is at home, Thursday night at 7 p.m. against the Winston-Salem Dash.
Bostick and his 97 mph fastball will start the first game for the Buies Creek Astros.
Report a Typo